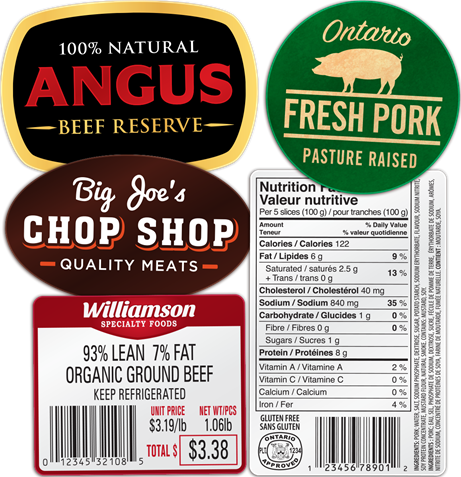 Meat Labels
The product labels you use are essential for making sure your products stand out from the competition. We all rely on custom labels to identify products on store shelves or to review product ingredients and nutrition facts tables. We'll help you find the right custom label solution for your application and determine the most cost effective way to produce them.
We can assure you that our custom labels are made to meet your food labelling requirements.
Our labels can be used to:
brand your product
identify product types and flavours
add nutrition facts tables, ingredients, and barcodes
make food claims such as, "organic" or "gluten free"
label packaging your products are shipped in
identify the price of your product
provide instant coupons
seal your packaging
Whether you need completely customized product labels or simply a nutrition facts table label, Spectrim can satisfy your labelling needs. Our dedicated staff have the experience and knowledge to professionally create labels for any application.
From design to finished label, Spectrim Label is your source for custom label solutions made with quality service.
Get a FREE QUOTE today.Call us.